This document will detail the steps to enable the Microsoft Multi-Factor Authentication (MFA) for Windows on your district staff account. The purpose of MFA is to keep your account safe and verify your logins.
The first time you sign into a Microsoft app or website, such as office.com, you will get prompted to enroll your account into the MFA. If you are prompted to choose between accounts, click the Work or School account option.
You should get the warning that more information is required. Click Next.
You will be prompted to get the Microsoft Authenticator app for your mobile device. Click Next.

Click Next. You will want to stay on the next page while you configure the app on your phone.

Keep this QR Code on your screen.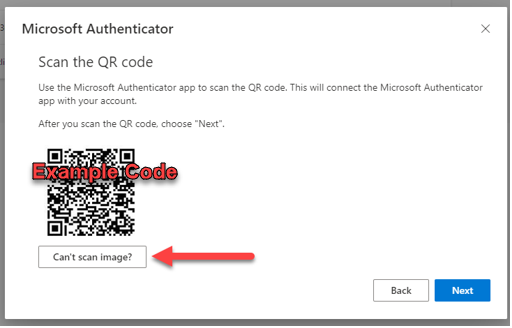 The following steps are performed on your mobile device
Open the App Store or Google Play Store on your phone. Search for the Microsoft Authenticator.
Open the app and click Accept.
Click on Add work or school account.
Click Scan QR Code
Scan the QR Code on your computer screen with the authenticator app on your mobile device. It is suggested to Allow the authenticator app to send you notifications.
You will get the notification to Approve your login which will link the authenticator.
Back on the computer, you will notice the Notification Approved message. Click Next.
You have successfully set up the MFA for your account. Click Done.